Denton – Most Haunted Jail – still active
Brace yourself for a walk around one of the most actively haunted towns on the Shore –
30 minutes from the Bay Bridge
Denton, the heart of Caroline County has many famous ghosts and one of the most actively haunted sites on the Eastern Shore – the Denton Jail, believed to be haunted by Wish Sheppard. They say Wish – an African American man of 19 – assaulted a white woman. He was condemned to hang. When he left his jail cell, he left a handprint on the wall. A print that would never go away, even after the Sheriff painted over it, plastered over it and even spread concrete over it. Wish wanted his presence known. So he's been haunting the jail since the early 1900s. All of the staff, some of the inmates and even the Warden call the spirit that haunts the jail – "Shep."
Book online now!
There is continuous paranormal activity at the jail. And the Courthouse Green has been the site of two brutal lynchings (what lynching isn't brutal?"). Around the Courthouse green are five haunted properties in addition to the jail and the square…. making Denton the most actively haunted town on the Mid-Shore. In addition to walking the square, you'll walk through TWO graveyards – one so haunted that some locals won't walk on that side of the street at night. And you'll see the house of Dr. Knott and hear the stories of a ghost that haunts an old bank building.
PLEASE NOTE: WE DO NOT GO INSIDE THE PROPERTIES.  This is a ghost walk where stories of hauntings and unexplained events are shared while standing outside the property.
SITES ON THE DENTON GHOST WALK include the Caroline Jail and the ghost of Wish Sheppard, St. Luke's Cemetery, Emerson House, Towers House, Taylor House, Dr. Knotts House, St. Elizabeth's graveyard and the courthouse green where your guide will share stories about the old Indian tribes, the lynching of Marshall Price and the ghost of Annie Belle Carter.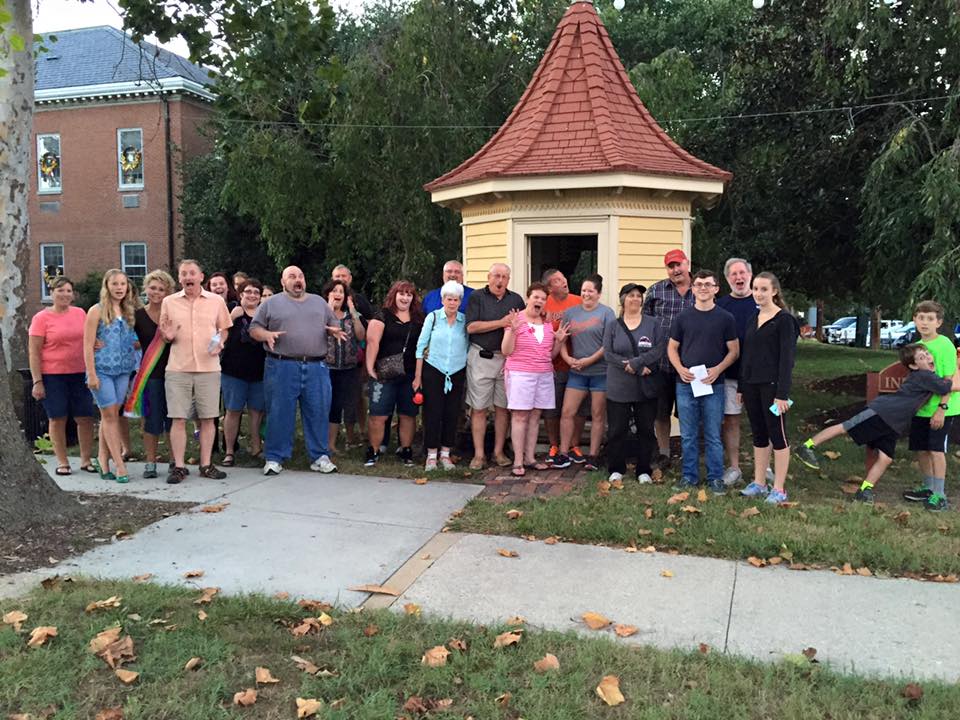 Book online now!
MEETING PLACE:  Meet on the corner of Market Street and Second Street on the Counthouse side near the kiosk.
BLOG POSTS ABOUT HAUNTED DENTON:
The Ghost of Annie Belle Carter
Does Wish Sheppard Still Haunt the Denton Jail?
TIME & WEATHER: We walk in all kinds of weather except weather that threatens public safety. Please list CELL PHONE # when registering so in the unlikely event we need to cancel we can notify you. Dress for the weather and be aware that the ghost walk takes at least 1 to 1.5 hours and covers about 1 mile.
Bring your umbrella if it looks like rain
Wear comfortable shoes
Bring a flashlight.
Bring a camera.
CANCELLATIONS AND REFUNDS:  Full refund will be given if cancellation is made 48 hours prior to the tour's start.  If cancellation is NOT made within 48 hours of the tour, no refunds will be given. For reservations of 6 or more, we require 72 hours.  However, all registrations are transferable, so feel free to allow a friend or family member to attend in your place.  Just give them your order voucher.
SaveSave
SaveSave
SaveSave