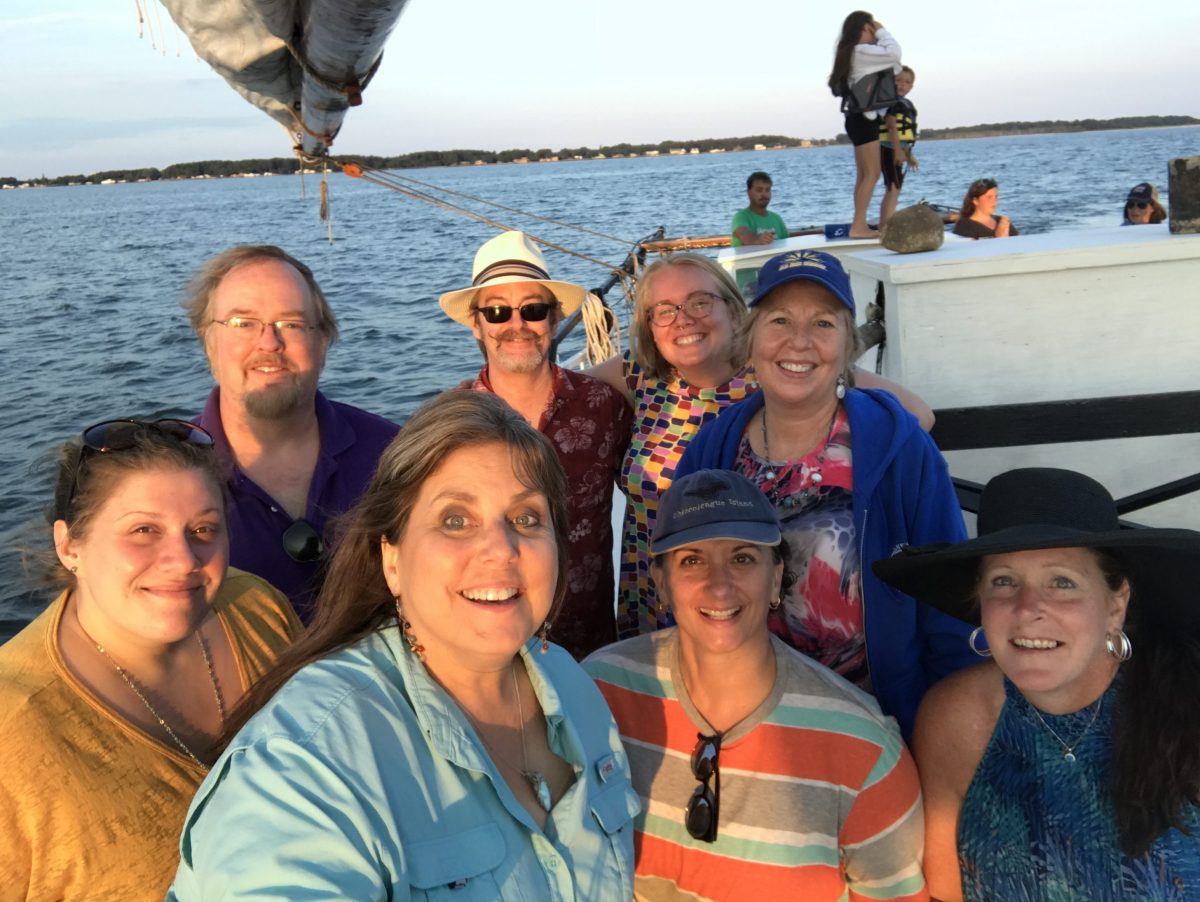 Storytellers, Guides, and Helpers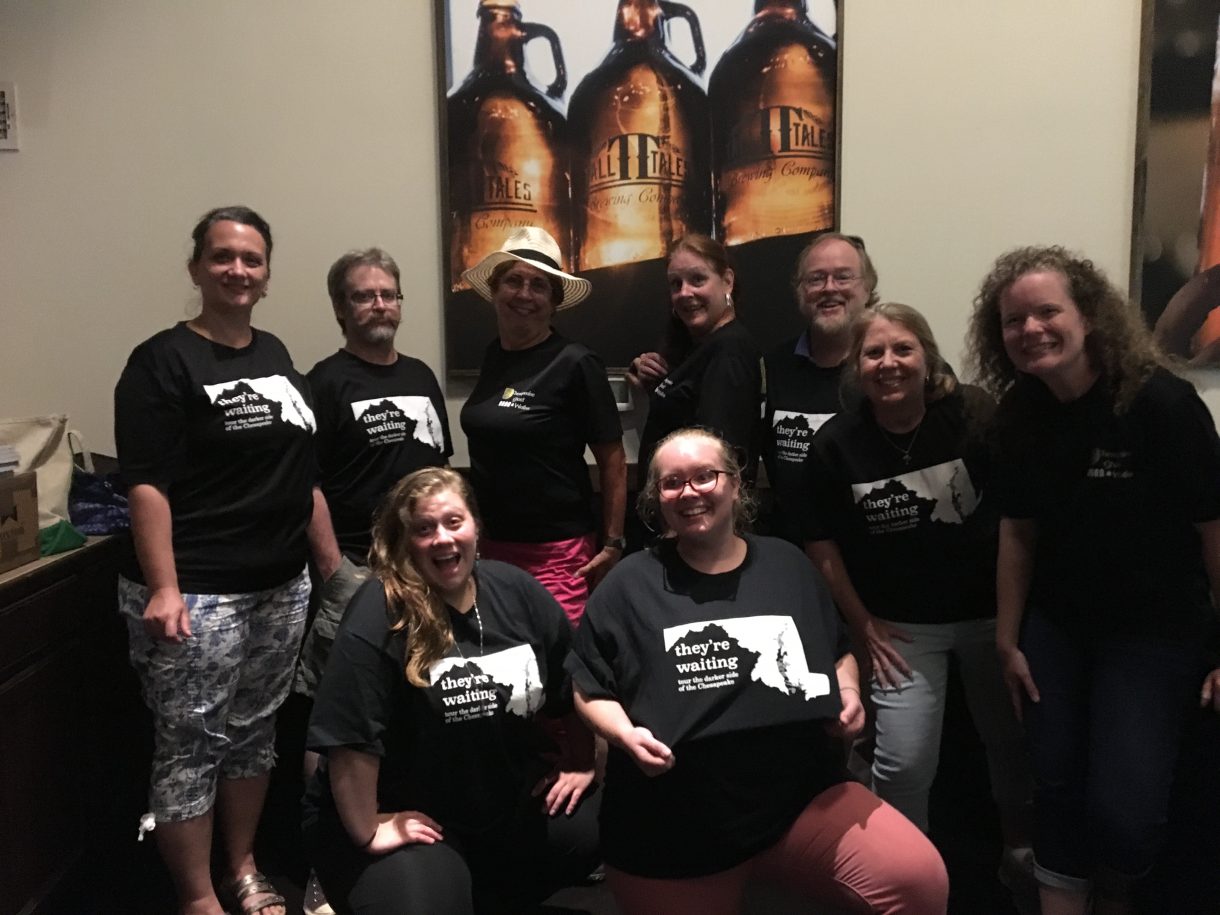 Meet the Chesapeake Ghost Tour team that includes storytellers, sales team and customer service. The company was founded by Mindie Burgoyne, who also wrote and designed all of the tours. She also trained the storytellers. It's a family business with additional assistance given by Mindie's husband, Dan and their daughter, Lara who handles customer service.
Most of the storytelling team started as guests on the ghost tours. All of our guides were avid history or ghost tour fans before they joined our team. They are some of the most committed, friendly, knowledgeable people you'll ever meet, and they each could entertain you for hours with their storytelling capabilities.
Missy Corley

Missy leads all four of the Upper Shore Walks with a focus on Easton and Denton. Missy is our storytelling rock star and our highest rated on TripAdvisor. for 2014 and 2015. Missy loves history and has worked part-time as a genealogist. She leads the Easton, St. Michaels, Cambridge and Denton Ghost Tours.

Rus Bergman

Rus is a high school social studies teacher in Easton. He loves history and has been a tour guide at the Mark Twain House in Hartford Connecticut (it's haunted). He also guided tours for the Baltimore Maritime Museum Historic Ships. Rus is an amazing storyteller. He guides the Easton, St. Michaels and Cambridge tours.

Jen Fanning

Jen Fanning is in the restaurant business and owns Rock Lobstah in Cambridge. But she's also a great storyteller and leads our Cambridge tour. Jen is from Salisbury originally but now lives in Cambridge with her husband, Chef Patrick Fanning.

Chris Wright

Christopher Wright is originally from Seaford DE but now lives in Salisbury. He leads our scariest walk – the Pocomoke City and also the Snow Hill Walk. Chris is also a paranormal investigator and also likes to terrify people.

Kelly Jarvis

Kelly is a retail store manager of Ace Hardware in Salisbury and an Eastern Shore native. She loves people and the history of the shore. She's an excellent storyteller and guides Pocomoke, Princess Anne, Snow Hill and Ocean City tours.

Clarissa Schoen

Clarissa works in the healthcare industry and is an awesome storyteller, and is new to the team this year. She guides the Ocean City and Berlin tours.

Mary Raley

Mary is a wife and mom living in Worcester County. She volunteers part-time at the Berlin Visitor Center. She's an awesome storyteller who guides the Berlin and Ocean City tours.

Maria Pippen

Maria Pippen is a New Yorker who lives in Salisbury and leads the Berlin and Princess Anne Walks. She has been labeled by her guests, the "Ghostess with the Mostest." Maria is proud to be Irish and is full of energy.

Mary Beth Carozza

Mary Beth joined the Chesapeake Ghost Walk team this summer learning the Ocean City and Berlin tours. She is an Ocean City native and also serves in the Maryland General Assembly representing District 38C as a state Delegate.

Jillian Kane

Jillian is a big fan of everything haunted. She's a Salisbury University graduate who is guiding the Pocomoke and Berlin tours. Jill will also be helping out on the Paranormal Investigations.
Lara English

Lara English answers the Ghost Phone and handles all of the customer service needs. When you call Chesapeake Ghost Tours or email a question, Lara is the one who takes care of you. She lives in Westminster with her husband and two children and is a full-time mom. Lara is also daughter to Mindie and Dan Burgoyne – owners of Chesapeake Ghost Tours.

Daniel Santi

Daniel handles the social media and marketing portion of the Ghost Tour Company. You'll find him answering your comments in our Facebook Group and on the Facebook pages. He is a husband and the father of the twin girls featured in many of the photos. Like Lara, Daniel is family. He's the son of Mindie and Dan Burgoyne.

Dan Burgoyne

Dan Burgoyne leads the Crisfield Ghost Walk. He is originally from Maine but now lives in a haunted house in Marion Station. Dan is a fan of history, an avid reader, a beekeeper and gets his fill of ghost stories from his wife, Mindie.

Mindie Burgoyne

Mindie Burgoyne is the founder of Chesapeake Ghost Tours. She wrote all of the tours and occasionally leads walks when a guide is not available. She also conducts storytelling session around the state of Maryland. Mindie just completed her 4th book on the haunted Eastern Shore. She is married to Dan Burgoyne (Crisfield guide) and is the mother of Lara English (Customer Service).